TEl estudio FAMiLI está actualmente reclutando. Si vives en el área Tri-Estatal, ¡Únete a nosotros!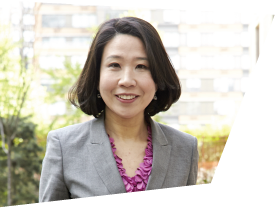 Jiyoung Ahn, PhD, RD
Investigadora Principal
Profesora Asociada del Departamento de Salud Poblacional
Directora Asociada, NYU Perlmutter Centro de Cáncer
http://www.med.nyu.edu/pophealth/faculty/ahnj06

La Dra. Ahn lidera estudios de investigación en la relación de el microbiana oral y del intestino con varias condiciones de salud. Incluyendo cáncer de páncreas, cáncer de cabeza y cuello, cáncer esofágico, obesidad y enfermedad cardiovascular. Ella recibió su PHD de la Universidad Cornell (Cornell University)en el 2005, y completo su postdoctorado en el Instituto Nacional de Cáncer (National Ccancer Institute)en el 2008. Ella ha publicado más de 65 artículos revisados por pares y a recibido varios distinguidos honores y premios de la Asociación Americana de Investigación para el Cáncer (American Association for Cancer Research) y de los Institutos Nacionales de Salud ( National Institutes of Health). En su tiempo libre ella disfruta de la pintura al óleo.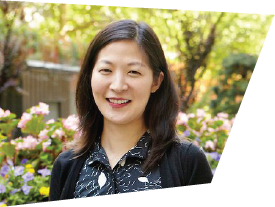 Stella Yi, PhD, MPH
Investigadora
Profesora Adjunta del Departamento de Salud Poblacional
http://www.med.nyu.edu/pophealth/faculty/yis01

La Dra. Yi es una epidemióloga de enfermedades cardiovasculares, su trabajo se enfoca tanto en iniciativas basadas en políticas y en el comunidad para la reducción de la morbilidad y mortalidad cardiovascular. Antes de unirse a la Escuela de Medicina de NYU (NYU School Of Medicine), La Dra. YI trabajo por seis años en el departamento de salud e higiene mental de la ciudad de Nueva York (New York City Department of Health and Mental Hygiene), donde ella evaluó la política de nutrición y desarrollo enfoques clínico-comunidad para reducir la hipertensión y la obesidad. Ella recibió su Maestría en Salud Publica de la Escuela de Salud Pública de Yale (Yale School of Public Health), y su PHD de la Escuela Bloomberg de Salud Pública de John Hopkins (Johns Hopkins Bloomberg School of Public Health). En su tiempo libre ella disfruta de viajar y pasar tiempo con su familia.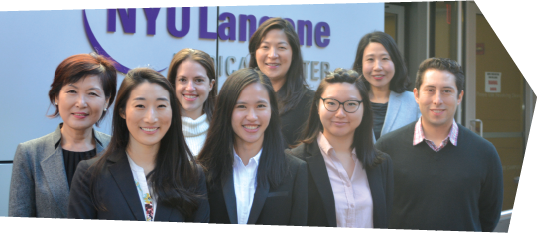 Equipo del estudio FAMiLI
Detras (Izda-Dcha): Hee Sun Choi, Brandilyn Peters, Stella Yi, Jiyoung Ahn.
Frente (Izda-Dcha): Deborah Min, Vanna Chen, Amanda Li, Jesse Lima.
The gut microbiota in conventional and serrated precursors of colorectal cancer.
Peters BA, Dominianni C, Shapiro JA, Church TR, Wu J, Miller G, Yuen E, Freiman H, Lustbader I, Salik J, Friedlander C, Hayes RB, Ahn J.
Microbiome. 2016 Dec 30;4(1):69. doi: 10.1186/s40168-016-0218-6.


Human oral microbiome and prospective risk for pancreatic cancer: a population-based nested case-control study.
Fan X, Alekseyenko AV, Wu J, Peters BA, Jacobs EJ, Gapstur SM, Purdue MP, Abnet CC, Stolzenberg-Solomon R, Miller G, Ravel J, Hayes RB, Ahn J.
Gut. 2016 Oct 14. pii: gutjnl-2016-312580. doi: 10.1136/gutjnl-2016-312580.


Fecal Microbiota, Fecal Metabolome, and Colorectal Cancer Interrelations.
Sinha R, Ahn J, Sampson JN, Shi J, Yu G, Xiong X, Hayes RB, Goedert JJ.
PLoS One. 2016 Mar 25;11(3):e0152126. doi: 10.1371/journal.pone.0152126.


Cigarette smoking and the oral microbiome in a large study of American adults.
Wu J, Peters BA, Dominianni C, Zhang Y, Pei Z, Yang L, Ma Y, Purdue MP, Jacobs EJ, Gapstur SM, Li H, Alekseyenko AV, Hayes RB, Ahn J.
ISME J. 2016


Sex, body mass index, and dietary fiber intake influence the human gut microbiome.
Dominianni C, Sinha R, Goedert JJ, Pei Z, Yang L, Hayes RB, Ahn J.
PLoS One. 2015 Apr 15; 10(4):e0124599.


Human gut microbiome and risk for colorectal cancer.
Ahn J, Sinha R, Pei Z, Dominianni C, Wu J, Shi J, Goedert JJ, Hayes RB, Yang L.
J Natl Cancer Inst. 2013 Dec 18; 105(24):1907-11.


Validation of self-rated overall diet quality by Healthy Eating Index-2010 score among New York City adults, 2013.
Adjoian TK, Firestone MJ, Eisenhower D, Yi SS.
Prev Med Rep. 2016 Jan 9;3:127-31.


Clinical Characteristics and Lifestyle Behaviors in a Population-Based Sample of Chinese and South Asian Immigrants With Hypertension.
Yi SS, Thorpe LE, Zanowiak JM, Trinh-Shevrin C, Islam NS.
Am J Hypertens. 2016 Feb 17. doi: 10.1093/ajh/hpw014 .